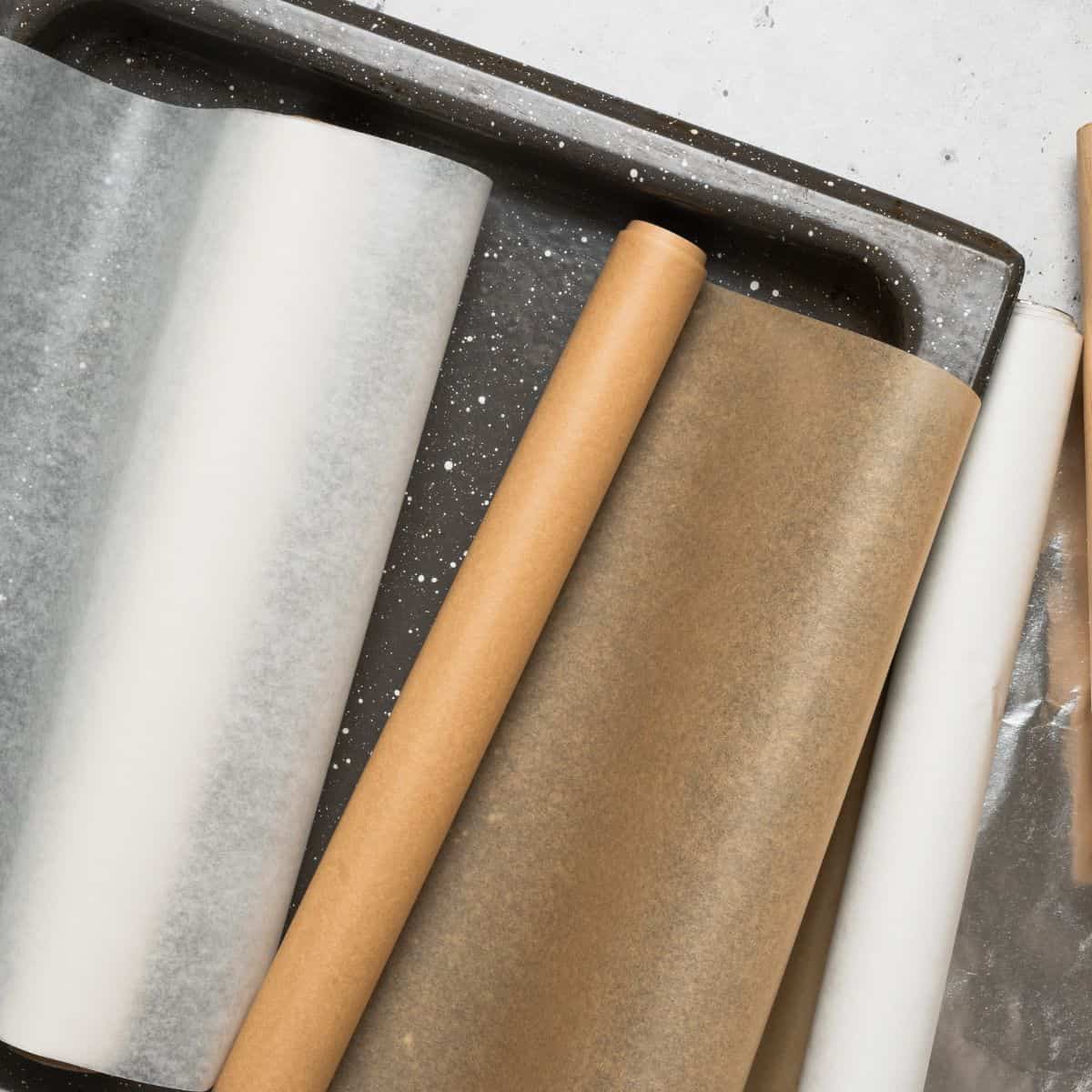 Parchment paper: When do you use it, when don't you use it, and how do you know which one to buy?
I get it—it can be confusing! We're going to take a look at this topic and go over several different types and styles of parchment paper for you to consider, depending on what you're planning to cook or bake.
I have to say that I used to not use parchment paper at all; my baked goods would stick to my cookie sheets, and I'd be scrubbing out my air fryer regularly. Now, though, while I don't use it all the time, I do have a few different favorites that I use when warranted.
Today, we're going to take a look at a variety of parchment paper products, including rolled parchment paper, parchment paper sheets, and even parchment paper designed to be used in an air fryer.
By the time you're done reading, you'll have a good idea of what you want to buy for your chosen application.
Jump to:
Top Parchment Paper Choices
The Testing Process for the Best Parchment Paper
The testing process I used was pretty simple and also comprehensive. First, I went through dozens of parchment paper products, reading through reviews and noting which were Amazon bestsellers.
I personally tested six different products. I was sure to choose a variety: bleached and unbleached parchment paper sheets, rolls, and air fryer squares.
I baked cookies on the ones meant to go in the oven and heated up pizza in the air fryer using the specially cut product.
I also looked at characteristics like packaging, how thick or thin the paper was, whether it was convenient to work with, whether it wrinkled, and how well the food slid off afterward.
You'll get to read all of my notes as you go through the parchment paper choices below!
Reviews of Each Parchment Paper Tested
Here's what you've been looking for an in-depth review of how each of these held up and why they came out on top in each category.
The Katbite Heavy Duty Parchment Paper Sheets, in the 9" x 13 " size, are rated up to 450 degrees, which is a bit higher than many other types of parchment paper. There are 200 sheets in the package I purchased, but there are other quantities (and also other sizes) available.
Overall Impression: These were the best paper baking sheets I tried. They're conveniently sized for a quarter sheet pan and, of course, they can be used on a larger sheet as well, as long as you aren't planning on using the entire surface area.
Performance: This parchment paper sheet did well. It curled only a little on the edges after being baked for 12 minutes. They also seem to have absorbed a good amount of oil from my buttery chocolate chip cookies.
User-Friendly Features: These sheets came in a cardboard box that opened easily, allowing me to pull out one sheet at a time without wrinkling or disturbing the others. When I placed it on my baking sheet, it immediately laid flat.
The Amazon Basics Parchment Paper is a 90-sf roll of bleached paper. It's 15 inches wide, which is appropriate for many baking sheets. The manufacturer says it's oven-safe to 425 degrees. The product is a non stick parchment paper and it's BPA-free.
Overall Impression: Overall, this was a good rolled parchment paper. The box was built to make it easy to tear off a section of paper.
Performance: There was very little sticking to this paper, and it did absorb a lot of the grease from the cookies I made. It remained fairly flat throughout the baking process, and the cookies were easy to remove.
User-Friendly Features: The box was manageable and sturdy. I was able to tear off the paper in a relatively straight line, and it wasn't too curly coming off of the roll.
The Vailnd Air Fryer Paper Liners come in a variety of sizes to fit your air fryer. I purchased the 8-inch squares; there are also round and rectangular versions in different sizes, so be sure you know what you're ordering.
There are 125 sheets in the package I purchased, and these are safe to can withstand temperatures of up to 428 degrees.
Overall Impression: These held their shape before I put them in the fryer, and they were nonstick. I also appreciated how much simpler they made it to clean out my air fryer basket afterward.
Performance: These worked well, but they did keep wanting to get sucked up toward the heating element in my air fryer. I remedied the situation by adding another pizza slice; I had initially tried with only one. I'm not sure if you could use these with just one pizza slice or something small toward the middle of the air fryer.
User-Friendly Features: These came in an easy-open plastic clamshell container that's able to be snapped shut. Also, they fit perfectly in my air fryer basket.
If You Care Parchment Baking Paper came in a 70-sf roll. The paper is unbleached, and it fits a 13-inch standard cookie sheet. It has a silicone coating for nontoxic heat resistance.
Overall Impression: My first impression was not great because the box was broken. There was also no way to easily cut the paper against the serrated edge. Once I used it, however, it did turn out to be a solid choice. Among the various parchment papers I tried, this one is likely the best value.
Performance: The paper stayed non stick as it was supposed to. It also stayed relatively flat, though it did wrinkle somewhat during baking. This did not affect the performance.
User-Friendly Features: Unfortunately, the box was not user-friendly. If you can get past that, however, the paper is versatile. The manufacturer states it can be used not only in the oven and air fryer but also in the microwave.
I purchased the Smartake Parchment Paper Baking Sheets in the 12" x 16" size. There are other sizes available; in fact, they go up to as large as 17" x 26". There are 200 parchment papers in the package I bought.
Overall Impression: My first impression was good. The sheets are slick and sturdy feeling. They lay flat and fill up most of a half sheet pan, which is nice. The packaging was a little confusing; you need to completely open up the cardboard box, then slide out a plastic "envelope" of sorts. From there, you can slide out one sheet at a time from the end.
My impression was that in time, once I take out half or so of the parchment papers, they might get a bit unwieldy. I'm not sure this could be remedied, however, since the sheets are quite large. They should just be stored flat on a shelf.
Performance: These performed well. They laid flat and continued to stay flat through baking, and they also absorbed a good amount of the oil from the cookies.
User-Friendly Features: These are user friendly in that you simply take out a sheet and put it on your pan. There's no cutting necessary if you're using a half sheet pan. Since there are various sizes available, you can order the one that makes the most sense for the size pan(s) you usually use.
The Reynolds Kitchen Unbleached Parchment Paper Roll is both unbleached and compostable. It comes in a roll, and different sizes are available. I bought the 45-sf package, which is 12" wide. It's safe to 425 degrees, and you can put it in your home compost pile after use (as long as what you cooked on it is also compostable).
Overall Impression: This was very easy to open and tear out without ripping or wrinkling. It also laid flat on the cookie sheet and only lifted slightly on the ends after baking. The size is convenient, as it could fit on both smaller and larger baking sheets.
Performance: This held up well. It didn't absorb a lot of oil, at least not visually, but it didn't curl up much, and it remained nonstick.
User-Friendly Features: The box is very user friendly. Simply tuck the flap in behind the roll of parchment paper, then you can unroll it and tear it off cleanly. It's also flat, even though it came on a roll, so you can just lay it down and place your items on top.
Factors to Consider When Buying Parchment Paper
There are some factors you might keep in mind when looking for the best parchment paper for your needs.
Quality of the Parchment Paper
You're going to want to find parchment paper sheets or rolls that are sturdy enough to stand up to whatever you're baking or cooking on them. Some types are thicker than others, and some seem slicker and less likely to promote sticking than others.
Think about what you're going to be making. Something on the greasy side (like buttery cookies) won't require very slick parchment paper but will need something on the thicker side to reduce wrinkling and tearing.
Heat-resistance of the Parchment Paper
Most parchment paper will be fine in an oven up to 400 degrees. This isn't something to guess at, however; look at the product (or the listing) to find out for sure. The last thing you need is a fire due to parchment paper that isn't heat-resistant enough.
Bleached vs. Unbleached Parchment Paper
Bleached and unbleached parchment paper sheets are both good options, but if you have a preference, check the specifications to see which you're buying.
Both are equally safe. Bleached parchment paper is white, and unbleached parchment paper is brown, so you'll be able to see at a glance what type you have.
Size of Parchment Paper Sheets
If you're buying parchment paper sheets, you'll want to keep an eye on the size specifications. If you're using small cookie sheets or a regular baking pan, 9x13 sheets might be a good option. Larger cookie sheets would have better coverage with larger parchment sheets.
One caveat: don't use a large piece of parchment paper on smaller cookie sheets, since the edges will hang off. If they touch the oven grates, they could scorch, causing damage to your oven or even a fire.
Availability and Price of the Parchment Paper
Finally, you'll want to see which parchment paper you can get at a reasonable price, either locally or through Amazon.com or another online store.
Different types of parchment papers are widely available, so there's no need to spend an arm and a leg. Just choose the style you're looking for, then look for the best product you can both afford and find easily.
Frequently Asked Questions
In case I haven't answered some of your questions, here are some common ones that tend to come up.
Do I need to perforate parchment paper for the air fryer?
Perforating parchment paper for the air fryer isn't strictly necessary, but it can be helpful if you're looking for a crisp finish and the food you're cooking is on the moist side.
The small holes will allow for more air circulation, which, in turn, will crisp up the outside of your food better than using solid parchment paper.
While I didn't review any pre-perforated parchment papers, you can certainly buy those. Another option is just to use a fork or wooden skewer to make holes in the paper before lining your air fryer basket with it.
Is white or brown parchment paper better for baking?
Both are fine to use. If you have one or the other on hand already, go ahead and use it for baking, air-frying, or anything else. Both are nonstick, and both are usually equally heat-resistant (check this for your particular brand of parchment paper).
White parchment paper is bleached, and brown parchment paper is unbleached. Brown (unbleached) papers keep their natural colors and can be more ecologically friendly.
Are all parchment papers the same?
All parchment papers are similar but not the same. They vary in thickness, size, shape, and coating. Some are of a higher or lower quality.
Start with this review of the various types tested, and then if you aren't sure, rely on reviews or even go to the store and take a close look at the different types of parchment paper available before buying.
When should you not use parchment paper for baking?
For the most part, parchment paper is a great option to consider when baking. There are a few times you might not want to (or should not) use it.
The first is when the baking temperature is over the heat resistance of the brand of parchment paper you have. Most are rated to 400 degrees, so if you're baking at 425 or higher, or if you're using the broiler, don't use parchment paper.
If you're already using a nonstick pan, you might not need parchment paper. The exception would be if you're making macaroons, caramels, or something else that's very sticky.
Don't use parchment paper sheets on a grill or when using an open flame. This is a safety hazard.
And finally, if you're making a meringue, parchment paper can absorb some of the moisture and become soggy and sticky. For this type of dessert, you'll want to use a silicone mat instead.
Do you grease parchment paper?
You don't need to use oil, butter, or cooking spray to grease parchment paper most of the time. If you're making something very sticky, you might choose to grease it.
The other reason you might consider greasing underneath the parchment paper (so between the paper and the baking sheet) is if you're making something like buttery cookies, which might cause the paper to curl up. Putting a very small amount of grease under the parchment paper can prevent it from lifting.
Are wax paper and parchment paper the same?
No, wax paper and parchment paper aren't the same and can't be interchanged. Wax paper has a wax coating and can melt or burn at high temperatures. Wax paper isn't used for cooking or baking; it's better used in food storage.
Finding the Best Parchment Paper for Your Needs
Overall, the best parchment paper is the one you're going to use the most consistently and that's the easiest to use. I personally preferred the Katbite Heavy Duty Parchment Paper Sheets as my first choice. My top choice for rolled parchment paper would be Reynolds Kitchen Unbleached Parchment Paper Roll.
All of the parchment papers I tried were worth it, though, and I'd recommend any or all of them. Think about the qualities most important to you, be sure to read reviews, and then go ahead and experiment to see which you like best!
You Might Also Like:
Can You Put Wax Paper in an Air Fryer?
Can You Use Foil in an Air Fryer?