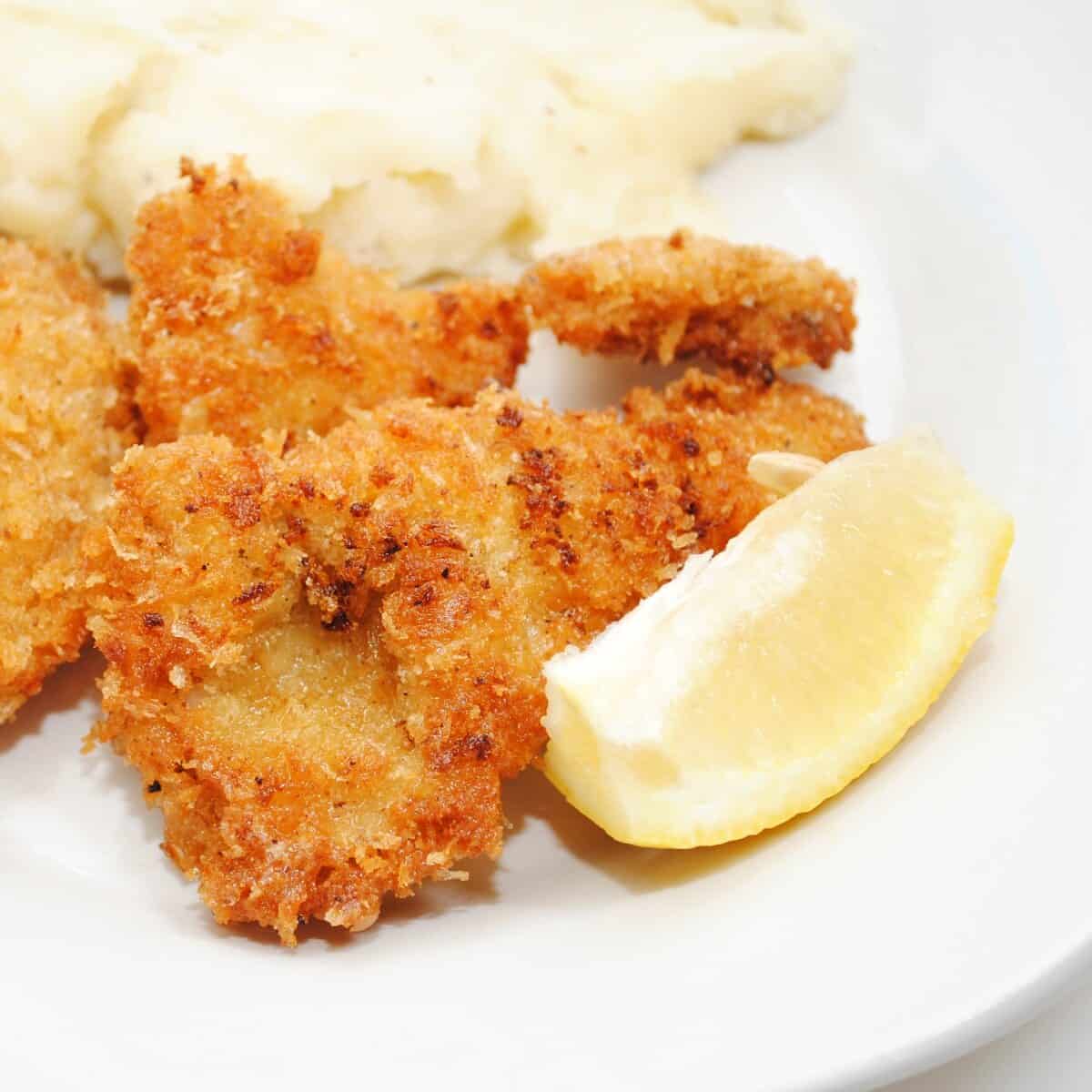 Finding a substitute for panko bread crumbs can be quite the culinary challenge.
Indeed, when it's time to whip up that favorite recipe, and you realize you're out of this key ingredient...panic ensues.
A substitute for panko bread crumbs? You might wonder how possible it is. But here's where the distinction between a casual cook and an adaptable kitchen maestro comes into play.
If you don't know how to creatively swap ingredients without compromising flavor or texture, your dish may never reach its full potential. Navigating through such substitutions isn't always easy, folks.
Jump to:
The Art of Panko Bread Crumbs
When it comes to the cooking realm, panko bread crumbs have achieved a celebrated reputation. Hailing from Japan, Panko breadcrumbs are a widely used component in many types of cuisine.
So what makes them special? The answer lies in their unique production process and characteristics.
Making Panko
Panko isn't your average breadcrumb. Its creation involves removing crusts from white bread and transforming these pieces into large flakes. This results in its signature crunchy texture that's sought after by chefs worldwide.
This method sets panko apart from traditional or regular breadcrumbs, which often come finely ground, leading to a denser texture when used as a coating or filler on various food items.
A Neutral Flavor Profile
In addition to this distinct structure, another standout feature is panko's neutral flavor profile.
Unlike other types of breadcrumbs that may contain added salt or seasonings, panko maintains a subtle taste, making them versatile across numerous cuisines where you want crunch without overpowering other flavors within the dish.
Culinary Uses of Panko Bread Crumbs
Panko bread crumbs are a ubiquitous component in the culinary realm, providing both texture and flavor to many dishes. These Japanese-style breadcrumbs offer a unique crunchy texture and neutral flavor that can enhance various dishes.
In essence, these fine particles derived from white bread without crusts play multiple roles in cooking—they serve as crispy toppings for casseroles or form the golden-brown coating on fried foods.
Panko's Role in Japanese Cuisine
The value of panko is not limited to Western cuisines only. In traditional Japanese cuisine, its significance cannot be overstated.
Katsu dishes: Deep-fried cutlets, such as chicken katsu and tonkatsu (breaded pork), rely heavily on panko's lightness and crispness.
Savory pancakes: Okonomiyaki often features a topping of panko before being cooked on a griddle, which enhances their overall taste with added crunchiness.
Best Substitutes for Panko Bread Crumbs
1. Regular Breadcrumbs
Ah, regular breadcrumbs! They're similar to panko but a little bit different. They're made from regular bread that has been toasted and finely ground. They don't have that light, airy texture of panko, but they sure do get the job done!
You can use these like for like, so if a recipe calls for a cup of panko, you can use a cup of regular breadcrumbs.
Best for any dish where you'll use panko, including breaded chicken, casseroles, and even homemade mac 'n' cheese.
2. Cracker Crumbs
Cracker crumbs are a fun substitute you get from pulverizing plain saltine crackers or similar varieties in a food processor. They add a unique crunch and saltiness to your dishes.
Use cracker crumbs in the same ratio as panko. If your recipe calls for half a cup of panko, use half a cup of cracker crumbs.
Best for seafood dishes, like breaded fish or crab cakes.
3. Cornflakes
Ever thought about using cornflakes instead of panko? They're not just for breakfast! These are essentially flaked corn that has been toasted to crispy perfection.
Pulverize them in a food processor to achieve a similar size to panko. Because they are crunchier than panko, use slightly less, say about three-quarters of the amount you'd use for panko.
Best for oven-baked chicken and on top of casseroles.
4. Matzo Meal
Matzo meal is simply ground up matzo crackers. It's a staple in Jewish cooking and works wonderfully as a panko substitute.
You can use matzo meal in the same way as panko. Just match the quantity one for one.
Best for dishes like meatballs or breaded eggplant.
5. Almond Flour
For my gluten-free friends, almond flour is a lifesaver. It's simply ground almonds which give a nice, nutty flavor to your dishes.
When substituting for panko, I use slightly less almond flour—about three-quarters of the quantity—because it can be denser.
Best for sweet dishes like apple crumble but can also be used as a coating for chicken or fish.
Sweet Alternatives to Panko
If sweet recipes are more up your alley—think cakes and pastries—consider shredded coconut or chopped nuts as replacements for panko bread crumbs.
The sweetness from shredded coconut adds tropical flair while still maintaining its role as an excellent substitute. In contrast, chopped nuts provide rich flavor and crunchiness akin to traditional Japanese-style bread crumbs.
You'll want these ingredients finely ground but not too much. Retain some texture similar to coarse grains found in dried panko crumbs so they blend seamlessly without overpowering other elements yet offer the delightful crunch we love about breadcrumb toppings.
Tips on Substituting Panko Bread Crumbs
Use an appropriate alternative: Substituting panko bread crumbs doesn't have to be tricky. The key is to find a substitute that serves the same purpose as panko.
Consider texture: If you want something that will mimic the light and airy texture of panko, try crushed cornflakes or cracker crumbs. They don't absorb as much oil when fried, which makes them a great option for achieving a crispy finish.
Binding agent: If your recipe calls for a binding agent for meatballs or crab cakes, dry breadcrumbs or matzo meal could be the way to go. They're finer than panko and great at keeping ingredients together.
Think about flavor: Replacing panko isn't just about matching textures but also about maintaining a balance of flavors. You wouldn't want to use sweetened shredded coconut in a savory dish, for example, as the sweetness could overwhelm the other flavors.
Control portions: Different ingredients absorb moisture at different rates, which could affect the overall texture and moisture level of your dish. So, when substituting panko, you might need to adjust the quantity of the substitute to achieve the right balance. Always remember substituting is not always a one-to-one ratio. Be ready to tweak the amount based on the ingredient you're using.
FAQs
Can I substitute Rice Krispies for panko bread crumbs?
Absolutely. Rice Krispies can serve as a crispy, gluten-free alternative to panko breadcrumbs when crushed finely.
Can you substitute seasoned bread crumbs for panko?
Yes, seasoned breadcrumbs can replace panko, but remember they contain added flavors and salt that might alter your recipe's taste profile.
Can almond flour be substituted for panko?
Surely. Almond flour is a low-carb, gluten-free option that provides a texture similar to traditional breadcrumbs, though with a nuttier flavor.
What is the best substitute for breadcrumbs?
The "best" depends on dietary needs and dish type. For versatility, crushed crackers or cereal like cornflakes work well in many recipes.
Crumbing to an End
Exploring the world of panko bread crumbs has been a journey, from their Japanese origins to their versatile use in various cuisines.
We've discovered how these unique breadcrumbs are made and used in traditional dishes like chicken katsu or as crunchy toppings for casseroles.
Creating your own panko bread crumbs is easy with just a loaf of white bread and some basic kitchen tools. (Jump to our recipe below for the exact steps!)
Now that you're equipped with knowledge on substituting panko breadcrumbs successfully without compromising taste or texture integrity, you should put it into practice!
Dive into our collection of air fryer-friendly recipes and cooking guides, where we show how easy it is to incorporate these substitutions. Cook today with confidence knowing there's always a substitute at hand when you need one.
You Might Also Like:
17 Best Bread Crumb Substitutes for Every Dish
Best Potato Starch Substitutes for Gluten-Free Cooking
Air Fryer Zucchini Chips Recipe
Recipe
Homemade Panko Bread Crumbs
Equipment
Oven

Baking sheet

Food processor or blender

Cooling rack

Airtight storage container
Ingredients
1

loaf of crust-less white bread
Instructions
Preheat your oven to 300°F (150°C).

Slice or tear the crust-less bread into small pieces and spread them out on your baking sheet.

Bake in the preheated oven for about 10 minutes or until the bread pieces start to dry out but are not browned.

Take the baking sheet out of the oven and let the bread pieces cool completely on a wire rack.

Once cooled, place the bread pieces into your food processor or blender and pulse until they reach the desired size. You're aiming for large, flaky crumbs.

Transfer your homemade panko breadcrumbs to an airtight container for storage.
You can find the video in the post above. If you don't see a video, please check your browser settings.
Nutrition
Calories:
427
kcal
Carbohydrates:
78
g
Protein:
14
g
Fat:
6
g
Saturated Fat:
1
g
Polyunsaturated Fat:
2
g
Monounsaturated Fat:
1
g
Sodium:
791
mg
Potassium:
212
mg
Fiber:
5
g
Sugar:
7
g
Calcium:
198
mg
Iron:
5
mg
Did you make this recipe?
Leave a feedback and rate this recipe!