While I absolutely love baking, my appreciation for the art doesn't extend to cleaning all the equipment and materials I used in the process.
I hate when the dough or batter sticks to cake pans and baking trays. That's why I always use parchment paper every time I bake. But sometimes, I forget I've run out of it.
If you find yourself in this situation, don't use paper grocery bags to proceed with your recipe. Use a parchment paper substitute and keep your kitchen safe.
Jump to:
Understanding Parchment Paper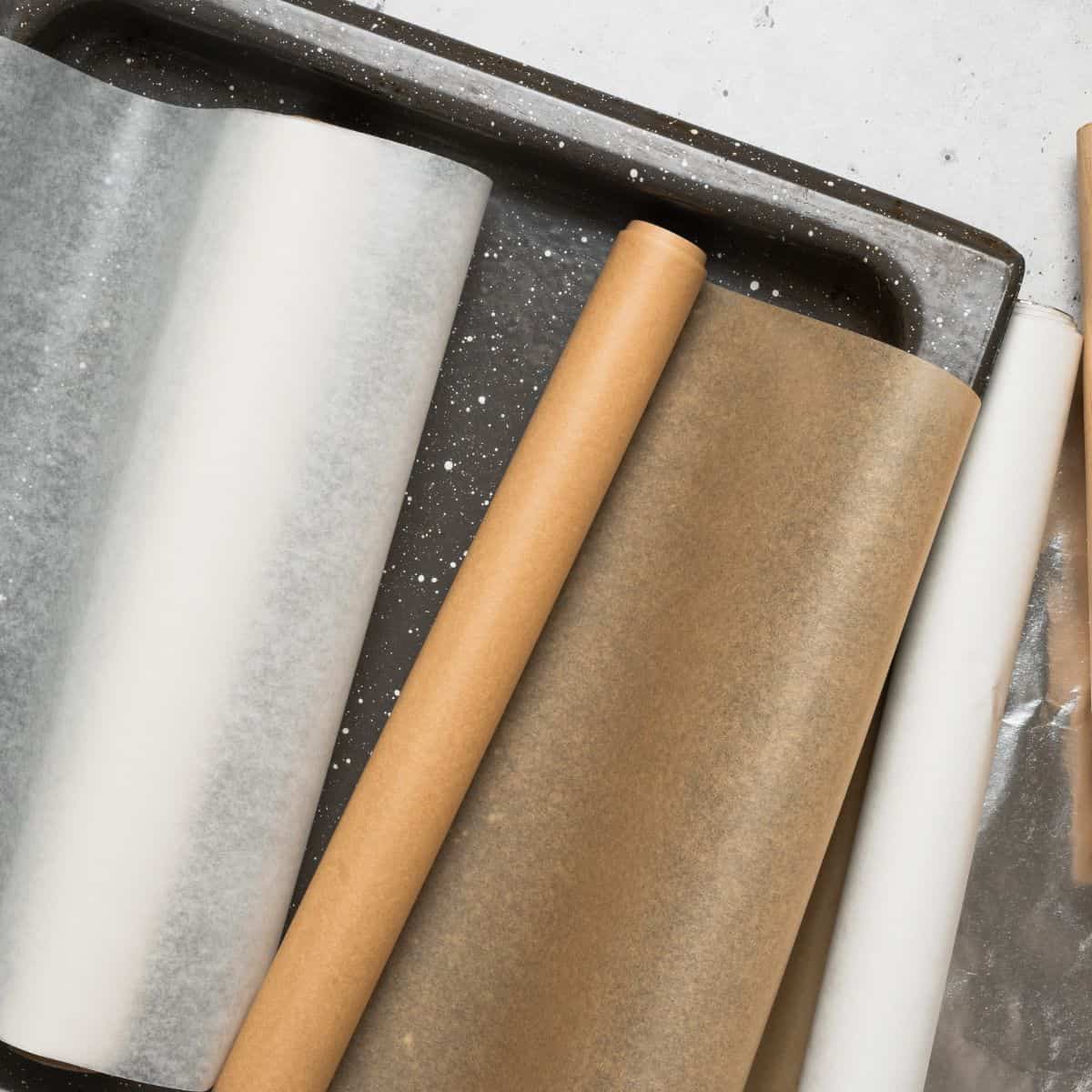 To successfully find a parchment paper alternative, we must understand what it is and what it does for our baked goods. This section should help with that.
What is Parchment Paper Made Out Of?
Parchment paper is just a thin sheet of cotton fiber. However, it incorporates a layer of coating made out of silicone.
The silicone material allows it to be water- and heat-resistant. As a result, parchment paper does not stick to surfaces, including meats, doughs, and batters.
How Does Parchment Paper Help?
You have to admit: In baking cookies or other baked goods, once the batter sticks to the tray, there's no way to save its structure, and they will certainly fall apart when you try to remove them.
That's where parchment paper comes in. It acts as a thin layer separating the dough or batter from the tray, allowing you to easily take them off after baking.
Plus, you don't have to scrape off stubborn and burnt residue from the tray. Who doesn't love an easy clean-up, right?
Best Substitutes for Parchment Paper
So, how do you line baking sheets without parchment paper? A substitute shall save your day! Here are some of the best ones I found.
1. Aluminum Foil
Aluminum foil is one of the best options for lining baking sheets, and almost every household has a roll on their shelves.
Like parchment and wax paper, aluminum foil prevents spills and drips from falling to your baking sheet or the bottom part of your oven (it saves you a paper towel, too).
On top of that, aluminum foil is heat resistant and even insulates your food, keeping them hot for a long time after pulling them out of the oven.
However, aluminum foil does not share the non-stick property of parchment paper, so you may want to coat it with olive oil before placing your food.
Here's an Air Fryer Brownies recipe to test it on.
2. Silicone Baking Mat
As I've mentioned, the silicone material in parchment paper is one of its most important properties. Therefore, a silicone baking mat should be an excellent substitute for parchment paper.
It's exactly what its name suggests; a baking mat made out of silicone. Its non-stick surface prevents raw foods or batters from dirtying your baking sheet or oven.
You just have to find the appropriate size for your oven because silicone baking mats aren't adjustable, unlike parchment or wax paper.
It's also heat-resistant, but you want to ensure your oven temperature doesn't exceed 428 degrees Fahrenheit (220 degrees Celsius).
3. Wax Paper
Waxed paper is also an excellent parchment paper replacement for no-bake recipes. Many people even mistake this for actual parchment paper.
It's also made from non-stick material. However, unlike parchment paper, wax paper is not heat-resistant. Using this in an oven will cause it to melt and blend with your food.
Wax paper may also work for a microwave bake, but I suggest you reserve it for recipes that don't include ovens or heat.
Try it on this No-Bake Chocolate Cheesecake recipe.
4. Greased Baking Pan
Are you looking for a priceless substitute? Try greased baking sheet. It's priceless because it literally doesn't have a price tag since you don't have to buy anything.
Using this as a substitute parchment paper is as easy as lining your baking sheet or pan with oil (or butter for richer flavor).
This thin layer of oil should prevent raw foods or batters from sticking to the pan. However, this doesn't keep it clean. You still have to clean the pan of oil and other residues.
5. Cooking Spray
If you want to layer your baking sheets with oil but don't want to increase the fat content of your recipes, try cooking spray.
It's just like regular oil, except in a can that disperses it in a fine mist. This ensures you don't use too much oil but just enough to prevent food from sticking to your pan or sheets.
You want to be careful, though, if you're using an air fryer for your baking recipes. There are some cooking spray brands you shouldn't use on an air fryer.
6. Non-Stick Surface/Baking Sheet
Parchment paper prevents food from sticking to your baking sheet, but what if you use a baking sheet that includes a non-stick surface in the first place?
Yes, it's possible to completely abandon using parchment paper by investing in high-quality baking sheets or pans that have non-stick properties.
Think Teflon but baking pans. Several brands offer these. You can still use oil or cooking spray if you want to make sure, but more often than not, these sheets work.
7. Butter and Flour
If you have the patience, one of the most practical parchment paper substitutes is a combination of butter and flour. This method is relatively easy, and it works. It just takes some time.
First, you need to grab a stick of butter or coconut oil and rub it all over the pan or baking tray. Make sure you get the sides as well.
Once you get an even layer of butter or oil, sprinkle the pan with flour while turning it in different directions (to ensure you cover every inch of the surface).
The flour should prevent your dough, batter, or raw food from sticking to the pan. However, you want to make sure that it's completely covered.
Also, avoid using this method if you're baking in an extremely hot oven or using high heat to cook your food, as this can burn the flour.
This substitute should work on this Linzer Cookies recipe.
8. Corn Husks
Do you want to keep it all-natural? Try using corn husks. This substitute for parchment paper is mainly for cooking food rather than baking.
Corn husks should work for steaming fresh fish and other delicate meats. However, you first want to soak them in water for at least 30 minutes.
This may add a bit of flavor to the dish, but it shouldn't be too noticeable. You can also use it to prevent dumplings from sticking to your steamer.
But remember that corn husks aren't leakproof. Liquids, fats, or meat spills can fall onto your pan or tray, so you might still have some cleaning to do.
9. Banana Leaves
If you don't have corn husks (because, let's face it, they can be hard to find), banana leaves should also work in pretty much the same way.
It's also a natural parchment paper substitute, but one advantage it has over corn husks is that you don't have to soak them in water for half an hour.
Just use them as they are! Banana leaves are naturally smooth and don't stick to fresh meat, and bake mixes very easily.
You can also use them for baking, but only for baked goods that use parchment paper for wrapping food. It's also possible for liquid and juices to pass through the leaves, so be mindful of that.
You can also use banana leaves in plating your food for decoration. Try it the next time you serve this Air Fryer Banana Chips recipe.
How to Choose a Substitute for Parchment Paper
So, which among these substitutes for parchment paper is the best alternative? Well, it depends on what you need it for. To help you choose, here are two things you may want to consider.
Accessibility
Are you in a pinch, or are you looking for a long-term parchment paper substitute? This will should play an integral role in your baking.
You don't want to leave your dough, batter, or fresh meat lying in your kitchen halfway through a recipe just so you can run to the grocery store and buy a substitute.
In a pinch, greasing your pan, applying butter and flour, or using aluminum foil (if it's on your shelves already) should work.
However, if you're looking for a long-term substitute that you will use for all your future bakes, consider investing in silicone mats or non-stick baking sheets.
Durability
Your next consideration is durability. Some substitutes will be as efficient as parchment paper in preventing your food from sticking to the surface, but they're not heat-resistant.
Some of them, like banana leaves, may even fall apart while you're trying to wrap food in them. You must consider what you'll use a substitute for.
Are you using a microwave oven, a traditional baking oven, or an open fire? This is crucial in determining which substitute will be the best at withstanding the environment of your cooking area.
Parchment Paper Substitute FAQs
Can many times can you use a piece of parchment paper?
Generally, you can use parchment paper at least twice, but you have to make sure there's no grease left on the surface. Otherwise, the residue may overcook and burn, ruining the flavor of whatever you're cooking or baking.
Can I use foil in oven?
Aluminum foil is safe to use in the oven as long as it's not extremely hot or very near the heat source. The material could melt under these circumstances. Also, follow safety guidelines when using aluminum foil in a microwave oven.
Is parchment paper better than greasing a pan?
Greasing a pan may prevent dough, batters, and meats from sticking to the material, but parchment paper guarantees it. Ergo, if you have parchment paper, it's better to just use it instead of taking the trouble of oiling the pan.
For Your Non-Stick Bakes and Cooking Recipes
That concludes my list of the best parchment paper substitutes. Any of the choices above will benefit your recipe in one way or another. It's just a matter of what's best for you at the moment.
If there are other tools, materials, or ingredients you want to replace in your baking and cooking process or your recipe, feel free to visit Also The Crumbs, Please.
I have a long list of substitutes for the most common items we use in the kitchen.
You Might Also Like:
Can You Put Parchment Paper in an Air Fryer?